Lotion Pump Definition
---
After using lotion for so many years, you have to know this knowledge.So what is a lotion pump? Lotion pumps are also called nozzles, lotion nozzles, push-type lotion pumps, quantitative liquid dispensers and so on. Often used in shampoo, shower gel, conditioner, body lotion, facial cleanser, hand sanitizer, dish soap, laundry detergent, toner, disinfectant, moisturizer, baby oil, essence, sunscreen, BB cream, foundation, and packaging products such as food. In terms of product function and structure, it can be divided into ordinary emulsion pumps, vacuum emulsion pumps, oil pumps, foam pumps, spray pumps, emulsion pumps with springs that do not contact the liquid, etc. From a lofty concept, it is Boyle's law: for a quantitative gas in a closed container, at a constant temperature, the pressure and volume of the gas are inversely proportional. "The formula is: P1V1=P2V2. The popular understanding is: in a sealed container, the increase in volume leads to a decrease in pressure (liquid absorption), and the decrease in volume leads to an increase in pressure (liquid discharge process). The definition of the lotion pump has been explained to you, and the sealing function of the lotion pump will be introduced in the next issue.We welcome more people to pay attention to our company, ZHUHAI BAOLI FOAM SPRAY PUMP CO.,LTD. E-mail: Jacky@zhbaoli.com P.O.BOX: 519085 Address: No. 196, Nazhou Second Village, Tangjiawan Town, Xiangzhou District, Zhuhai City, Guangdong Province, China
After using lotion for so many years, you have to know this knowledge.So what is a lotion pump?
Lotion pumps are also called nozzles, lotion nozzles, push-type lotion pumps, quantitative liquid dispensers and so on. Often used in shampoo, shower gel, conditioner, body lotion, facial cleanser, hand sanitizer, dish soap, laundry detergent, toner, disinfectant, moisturizer, baby oil, essence, sunscreen, BB cream, foundation, and packaging products such as food. In terms of product function and structure, it can be divided into ordinary emulsion pumps, vacuum emulsion pumps, oil pumps, foam pumps, spray pumps, emulsion pumps with springs that do not contact the liquid, etc.
From a lofty concept, it is Boyle's law: for a quantitative gas in a closed container, at a constant temperature, the pressure and volume of the gas are inversely proportional. "The formula is: P1V1=P2V2. The popular understanding is: in a sealed container, the increase in volume leads to a decrease in pressure (liquid absorption), and the decrease in volume leads to an increase in pressure (liquid discharge process).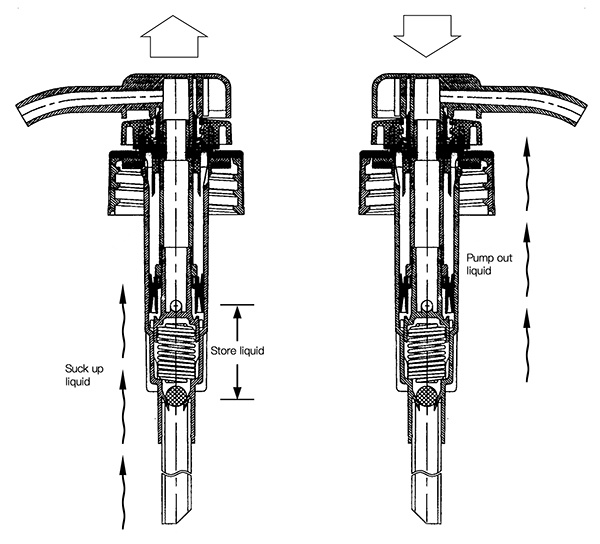 The definition of the lotion pump has been explained to you, and the sealing function of the lotion pump will be introduced in the next issue.We welcome more people to pay attention to our company, ZHUHAI BAOLI FOAM SPRAY PUMP CO.,LTD.
E-mail: Jacky@zhbaoli.com
P.O.BOX: 519085
Address: No. 196, Nazhou Second Village, Tangjiawan Town, Xiangzhou District,
Zhuhai City, Guangdong Province, China