Characteristics of glass bottles
---
With the improvement of processing technology, the current glass containers have expanded from traditional consumer goods to medical supplies and industrial supplies, making them more and more important as packaging containers. Glass packaging materials are also one of the main domestic packaging materials. The following will introduce the characteristics of glass bottles. First of all, you need to understand the main characteristics of glass bottle packaging containers. In summary, there are five main points: (1) Good barrier properties, better than ordinary packaging materials to maintain the original flavor of food for a long time without deterioration. (2) Good heat resistance, suitable for gradual high-temperature sterilization treatment and hot filling operations above 100°C, even 200°C, and can be heated by microwave after opening the lid, which is a feature not found in general food packaging. (3) Stable chemical and physical properties, acid and alkali resistance, suitable for long-term storage. (4) Good transparency and not easy to be damaged. (5) Glass bottles can be used repeatedly, which can reduce packaging costs. Secondly, let's take a look at some of its characteristics compared with other materials mainly used in bottled packaging containers. The summary is shown in Table 1. The characteristics of glass bottles have been explained to everyone, and the next issue will introduce the production process of glass bottles. We welcome more people to pay attention to our company, ZHUHAI BAOLI FOAM SPRAY PUMP CO.,LTD. E-mail: Jacky@zhbaoli.com P.O.BOX: 519085 Address: No. 196, Nazhou Second Village, Tangjiawan Town, Xiangzhou District, Zhuhai City, Guangdong Province, China
With the improvement of processing technology, the current glass containers have expanded from traditional consumer goods to medical supplies and industrial supplies, making them more and more important as packaging containers. Glass packaging materials are also one of the main domestic packaging materials. The following will introduce the characteristics of glass bottles.
First of all, you need to understand the main characteristics of glass bottle packaging containers. In summary, there are five main points:
(1) Good barrier properties, better than ordinary packaging materials to maintain the original flavor of food for a long time without deterioration.
(2) Good heat resistance, suitable for gradual high-temperature sterilization treatment and hot filling operations above 100°C, even 200°C, and can be heated by microwave after opening the lid, which is a feature not found in general food packaging.
(3) Stable chemical and physical properties, acid and alkali resistance, suitable for long-term storage.
(4) Good transparency and not easy to be damaged.
(5) Glass bottles can be used repeatedly, which can reduce packaging costs.
Secondly, let's take a look at some of its characteristics compared with other materials mainly used in bottled packaging containers. The summary is shown in Table 1.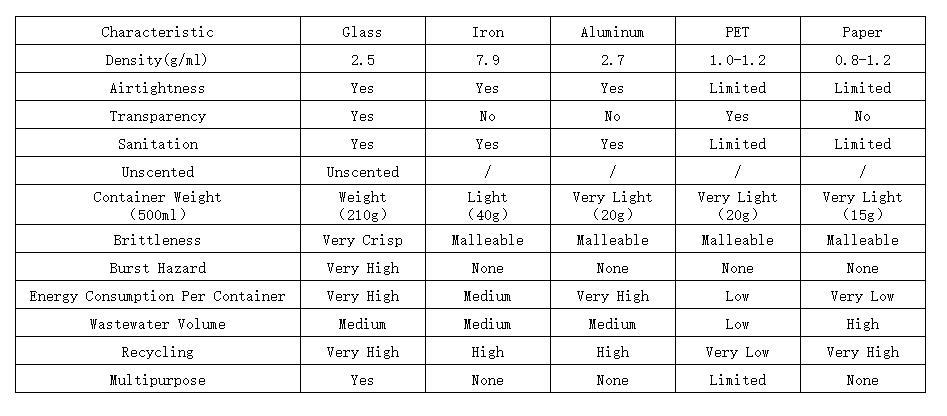 The characteristics of glass bottles have been explained to everyone, and the next issue will introduce the production process of glass bottles. We welcome more people to pay attention to our company, ZHUHAI BAOLI FOAM SPRAY PUMP CO.,LTD.
E-mail: Jacky@zhbaoli.com
P.O.BOX: 519085
Address: No. 196, Nazhou Second Village, Tangjiawan Town, Xiangzhou District,
Zhuhai City, Guangdong Province, China