Today I will introduce to you the silicone foam pump brush head
---
Is the silicone foam pump brush head easy to use? Today, I will explain to you the silicone foam pump brush head.What is a Foam Pump?Spray pumps that can knead foam are often referred to as foam pumps.The structure of the foam pump is much more complicated than that of the lotion pump.If you want to give full play to the function of the foam pump, you need to use the liquid for testing, adjust the liquid air ratio of the pump head to test the best foaming effect.So what are the characteristics of the silicone foam pump brush head?If you don't know, please read this article carefully, I believe you will have a different harvest after reading it. First of all, the foaming effect is good, and the foam that can be kneaded is large and even.When it comes to lathering, we should be more familiar with bath balls for bathing and sponges for washing dishes. In fact, the principle of foam pumps is very similar to them. Secondly, kneading with the silicone foam pump brush head is simple and convenient, and kneading is labor-saving and resistance-free. Third, the silicone foam pump brush head is beautiful in shape and gives people the impression that it is more popular than lotion pumps. Suitable for all skin types, it is great for cleaning large areas of skin such as the cheeks.Liquid silicone new foam pump brush head, which is softer than cotton and won't sting your skin. When you wash your face, your face will glow with a sheer glow. And it's as thin as a quail egg, so it can be stored in any pouch at will. Seeing this, I believe that everyone already knows the function of the silicone foam pump head. Let me show you the samples of this type of pump head of our company. The specifications of this foam pump are as follows: 43/410 PP FOAM PUMP WITH DOSAGE 0.8 CC.... The benefits of the silicone foam pump brush head have been introduced for everyone, thank you for watching. We will conduct a more detailed science popularization of pump heads in the future. Welcome more people to pay attention to our company, Zhuhai Baoli Foam Spray Pump Co., Ltd. Jacky Hui-Senior Sales Representative Phone: +853-631986862 whatsApp:+853-631986862 Linkedin&Facebook: ChunKit Hui E-mail: jacky@zhbaoli.com Website: https://en.zhuhaibaoli.com/ Address: No. 196, Nazhou Second Village, Tangjiawan Town, Xiangzhou District, Zhuhai City, Guangdong Province, China
Is the silicone foam pump brush head easy to use?
Today, I will explain to you the silicone foam pump brush head.What is a Foam Pump?Spray pumps that can knead foam are often referred to as foam pumps.The structure of the foam pump is much more complicated than that of the lotion pump.If you want to give full play to the function of the foam pump, you need to use the liquid for testing, adjust the liquid air ratio of the pump head to test the best foaming effect.So what are the characteristics of the silicone foam pump brush head?If you don't know, please read this article carefully, I believe you will have a different harvest after reading it.
First of all, the foaming effect is good, and the foam that can be kneaded is large and even.When it comes to lathering, we should be more familiar with bath balls for bathing and sponges for washing dishes. In fact, the principle of foam pumps is very similar to them. Secondly, kneading with the silicone foam pump brush head is simple and convenient, and kneading is labor-saving and resistance-free. Third, the silicone foam pump brush head is beautiful in shape and gives people the impression that it is more popular than lotion pumps. Suitable for all skin types, it is great for cleaning large areas of skin such as the cheeks.Liquid silicone new foam pump brush head, which is softer than cotton and won't sting your skin. When you wash your face, your face will glow with a sheer glow. And it's as thin as a quail egg, so it can be stored in any pouch at will.
Seeing this, I believe that everyone already knows the function of the silicone foam pump head.
Let me show you the samples of this type of pump head of our company.
The specifications of this foam pump are as follows:
43/410 PP FOAM PUMP
WITH DOSAGE 0.8 CC....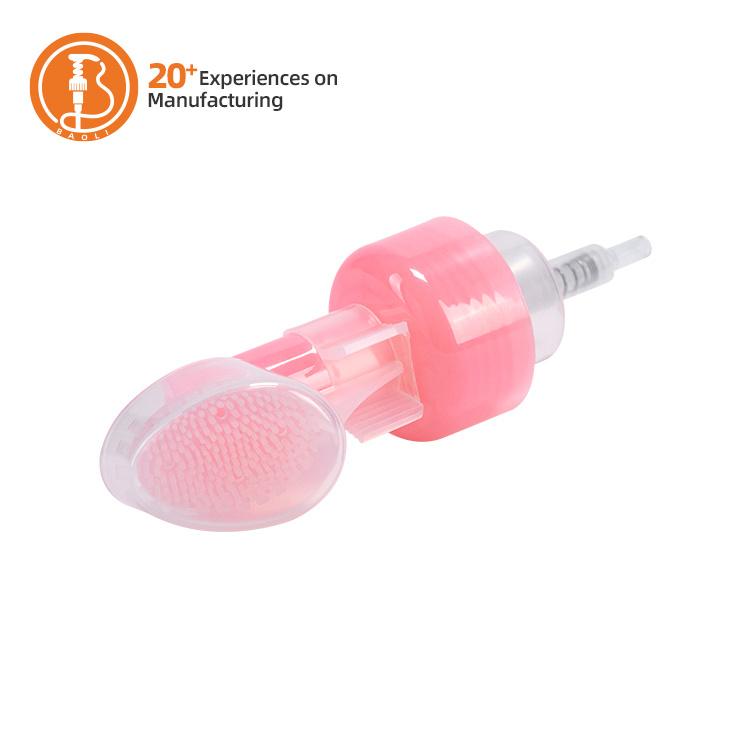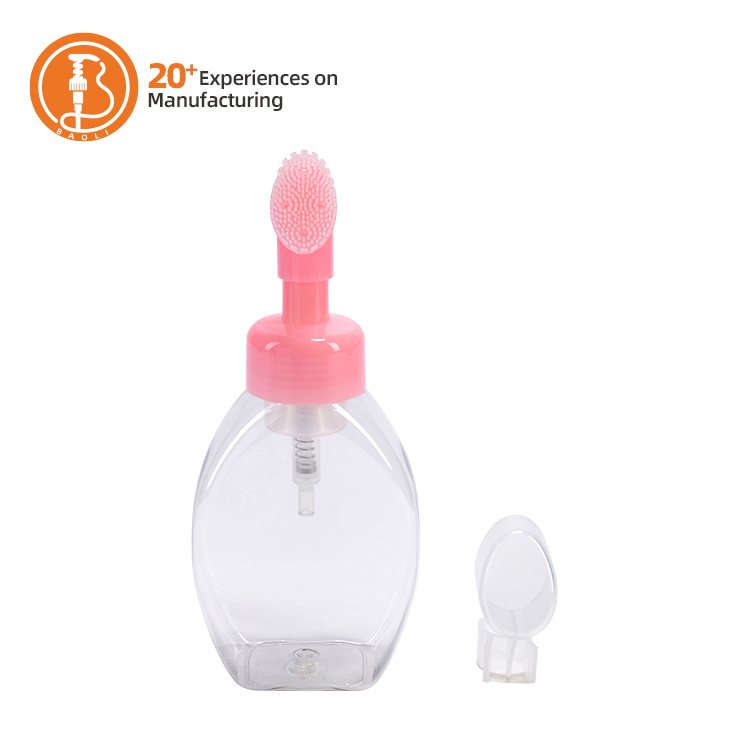 The benefits of the silicone foam pump brush head have been introduced for everyone, thank you for watching. We will conduct a more detailed science popularization of pump heads in the future. Welcome more people to pay attention to our company, Zhuhai Baoli Foam Spray Pump Co., Ltd.
Jacky Hui-Senior Sales Representative
Phone: +853-63198682
whatsApp:+853-63198682
Linkedin&Facebook: ChunKit Hui
E-mail: Jacky@zhbaoli.com
Address: No. 196, Nazhou Second Village, Tangjiawan Town, Xiangzhou District,
Zhuhai City, Guangdong Province, China